What is Certified Treasury Professional (CTP) Exam?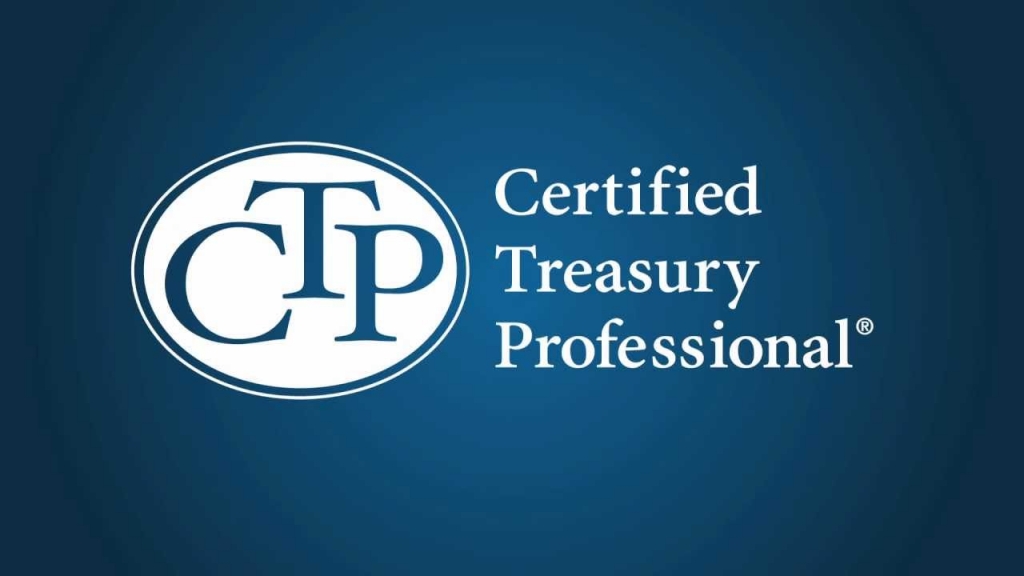 Certified Treasury Professional® (CTP) is a globally recognized certification within Financial Services Industry. It was first introduced as the Certified Cash Manager (CCM). It sets the standard or benchmark by which individuals demonstrate their competency and professionalism in corporate treasury. This certificate is more US, Canada, Australia focused/inclined.
On the other hand, CertICM is counterpart certification provided by Association of Corporate Treasurers (ACT) that focuses on Europe, MENA region, and even in East Asia (Hong Kong, Singapore, etc). CertICM is called Certified in International Cash Management.
Exam Synopsis
Exam Name: Certified Treasury Professional® Certification (CTPCert), refer to: http://ctpcert.afponline.org/ctpcandidate/.
Last syllabus revision: 2014 (4th Edition, latest so far)
Exam type: Computed aided test (CAT), multiple choices (MCQs)
Total questions: 170 + 20 unscored questions
Passing scaled score: 300, however only thing that is revealed when result is printed is "Pass".
Time available: 4 hour
Fee: USD1568.00/- (~AED5770/= USD@3.68AED)

CTP Exam Fee (Final Rate), they have early-discount rate as well: USD710/-
Standard International Shipping: USD29/-
CTP Application Fee: USD186/-
AFP Associate Membership: USD495/-
Essentials of Treasury Management, 4th Edition (Member-printed): USD148/-

Difficulty level:

Very high

, because of the scope of treasury area; borrowing, lending, forecasting, hedging, risk, etc. Must have basic understanding of industry terms and methods.
Moreover, Not a lot of material or groups online to help you with. Like there are for Project Management (PMP) Certifications.
Focus Areas
Domain 1: Corporate Treasury Area
Domain 2: Cash and Liquidity Management
Domain 3: Working Capital
Domain 4: Operational Risk Management
Domain 5: Financial Management (Capital Markets, Funding, Financing)
Numbers, yeah?
Think of
: A book with 840 pages, divided into 20 chapters, segregated into 5 Parts.
Study Sources
The book that you comes when you register for the CTP Application (Treasury Learning Essentials of Treasury Management, 4th Edition
Investopedia.com (amazing website)
DuckDuckGo.com (yep, no more google)
I used a third-party preparation material as well, called TMExam-com. If you have time and interest in the subject, then buy this study-guide. Otherwise,

Not-A-Must-Have

; can easily live without it.
Good luck!
Blogger Labels:
Treasury
,
Professional
,
certification
,
Financial
,
Services
,
Industry
,
Cash
,
Manager
,
benchmark
,
individuals
,
competency
,
professionalism
,
certificate
,
Canada
,
Australia
,
CertICM
,
counterpart
,
Association
,
Corporate
,
Treasurers
,
Europe
,
MENA
,
region
,
East
,
Asia
,
Hong
,
Kong
,
International
,
Management
,
Exam
,
Synopsis
,
Name
,
CTPCert
,
Last
,
syllabus
,
revision
,
Edition
,
MCQs
,
Total
,
Pass
,
Time
,
hour
,
Final
,
Rate
,
Standard
,
Application
,
Associate
,
Membership
,
Essentials
,
Member
,
Very
,
scope
,
area
,
Moreover
,
Project
,
Certifications
,
Focus
,
Areas
,
Domain
,
Capital
,
Operational
,
Risk
,
Markets
,
Numbers
,
Think
,
chapters
,
Parts
,
Study
,
Sources
,
Investopedia
,
DuckDuckGo
,
preparation
,
TMExam
,
Otherwise
,
luck